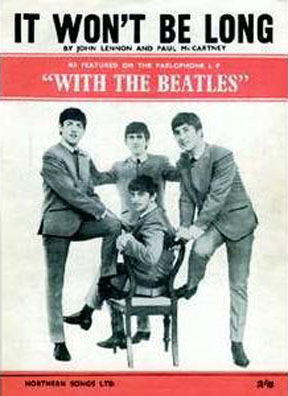 180: I Need You
Album: Help!
Writer: Harrison
Singer: Harrison
Verdict: Harrison tries really hard here. His guitar playing is a nice change of pace with the suspended chords and whatnot, and he would improve upon this later with If I Needed Someone. The cowbell in the the second verse really throws me off. 
179: It Won't Be Long
Album: With the Beatles
Writer: Lennon
Singer: Lennon
Verdict: A fun intro to The Beatles' fourth album, but much like She Loves You, all the fun is in the chorus. Lots of yeah-yeahs and scaling guitar riffs. But it's like Lennon didn't know yet how to write an interesting verse.
178: Roll Over Beethoven
Album: With the Beatles
Writer: Chuck Berry
Singer: Harrison
Verdict: I really enjoy Chuck Berry's version. This one, not so much. I think Paul or even John could have pulled this off better. Harrison just doesn't have the energy or something. I want to rock it out but it's practically approaching ballad territory.
177: Any Time At All
Album: A Hard Day's Night
Writer: Lennon
Singer: Lennon/McCartney
Verdict: Nearly identical in style to It Won't Be Long. No wonder I have them ranked so close. I like this one a little better as Paul does a great job hitting those high notes, giving me the warm fuzzies.
176: Only A Northern Song
Album: Yellow Submarine
Writer: Harrison
Singer: Harrison
Verdict: Man, not a good day for Harrison. A bitter song referencing a music publishing company that exploited the hell out of Harrison. That's all well and good, but the audience sort of become one at that point. John Fogerty did the same thing more than once when he would rip Fantasy Records owner Saul Zaents in his songs and I didn't care for it then either. I enjoy the music itself; the organ, trumpet, and glockenspiel complement each other. But you can't really sing along to it.